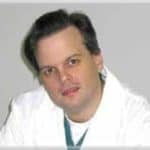 Dr. Alan S. Feller was born, raised, educated, and currently practices in New York. He has been practicing hair transplantation exclusively since 1994 and is considered one of the state's leading and most experienced physicians in the field of modern hair transplantation.
He has served as a contributing member of the International Society of Hair Restoration Surgery since 1995; is the author of scientific papers covering hair transplantation as well as tissue regeneration; authored and co-authored several U.S. patents, and an inventor of new instrumentation and protocols for the hair transplant field.
Experience
An accomplished inventor, patent holder, and amateur engineer, Dr. Feller entered the field of hair transplantation shortly after receiving his medical credentials. With literally thousands of hair transplant patients served since 1994, Dr. Feller stands as one of the few hair transplant doctors in the United States who can claim exceptional expertise in the dynamic world of Hair transplantation.
Throughout the years, Dr. Feller has trained many physicians from within and outside the United States in the intricacies of modern hair transplantation techniques. He continues to be sought out worldwide by hair loss doctors seeking beginner or advanced training in hair restoration techniques.
Advances in the Hair Transplantation Industry
Dr. Feller's practice is limited exclusively to hair restoration surgery. He employs a team of experienced technicians for every procedure. These "super-technicians," as he calls them, are trained at and work exclusively at Feller & Bloxham Hair Transplantation. Feller & Bloxham Hair Transplantation does not employ "traveling" or "shared" technicians.
Quality control is at the core of Dr. Feller's approach to hair restoration and he is closely involved in every aspect of the procedure. Dr. Feller prides himself on being on the cutting edge of hair transplantation technology and maintains a well-stocked research and development laboratory on the premises of his Great Neck, New York office. He is the inventor of "Cardioscope" heart monitor (FDA cleared) and the "Feller Gynescope" that can detect precancerous states in women. Additionally, he's patented computer interface and data exchange technology, as well as multiple patents for hair transplantation technology and instrumentation including FUT, FUE, and mFUE.
Call Feller & Bloxham Hair Transplantation today to book your consultation!